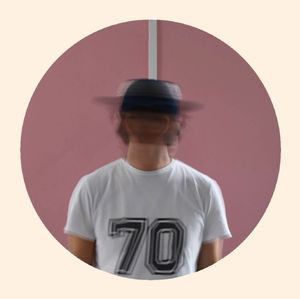 Sky Diving Penguins: History
Let's start in the present. Gia Iashvili (Yash-vee-li), or Sky Diving Penguins, as he is otherwise known, released their debut album 'Sky Diving Penguins' on 1 December 2021. A beautiful bucolic tapestry that doffs a cap to the likes of The Beatles, Elliot Smith Low, Ween & Nirvana, this has been twenty years in the making. But why? 
Back in the early part of this millennium, Sky Diving Penguins were being feted by much of the music press (NME, Kerrang, Melody Maker) following the release of their first EP. Mainstream airplay followed (Radio 1's Mark & Lard). In fact, things were so good, that V2 were supposedly about to sign Sky Diving Penguins. Until…well, nobody quite knows what happened next. 
One rumour has it that Gia had a moment of clarity. Whilst waiting for V2 to give the thumbs up, Gia, a sometime Hayao Miyazaki devotee, decamped to Japan, whereupon he set about learning cinematography. Unfortunately, whilst practising Kyudo one day, an errant arrow struck his left ear leaving him deaf in that particular ear. 
After a lengthy convalescence, Gia went to the Mount Fuji Five Lakes region to set up home as a hermit in a cave. Over eight years later, and after grappling with swans whenever he chose to bathe, Gia reemerged from his self-imposed exile, and headed to the Georgian Embassy in Tokyo before making his way home. 
Then it happened. A chance meeting with Georgi Kinkladze (former Manchester City/Georgian international footballer) in central Tbilisi, who was holding a frozen leg of lamb. They talked. They discussed the value of frozen lamb, and its use in Georgian cuisine, they reminisced about their time in the Red Army together and they talked about Manchester. This meeting reinvigorated Gia. 
Since then, he has built up Sky Diving Penguins' Georgian fanbase, performed with Z for Zulu, co-wrote the 2016 Georgian Eurovision entry for Young Georgian Lolitaz, and has been the subject of a short film, "Better than dog". 
With the debut album released, and gaining critical acclaim along the way, one thing we do know about Sky Diving Penguins is that they make music that is worth listening to. Again. And again. 
We hope you agree. 
Love 
SDP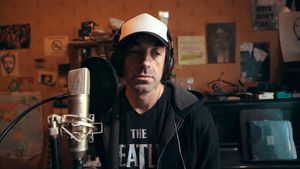 Film Biography
This Georgian film, shot in 2016, delves into the personal history and music making process of Sky Diving Penguins, as well as the influences that inform the music.